Are you seeing ROI from your buyer personas?
Increase persona adoption, integrate throughout
your business, and uncover new insights from big data to
drive stronger marketing results and more sales.
Increase ROI and adoption of personas by 5X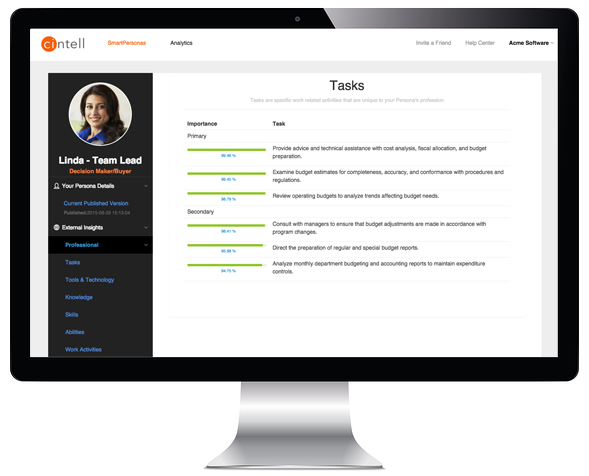 Publish and manage personas from a scalable, flexible cloud platform.
Improve access to buyer insights companywide and make your teams subject matter experts
Save time managing personas within a fully customized, centralized and secure knowledge base
Enable sales teams with relevant content and messaging, and collect their feedback
Incorporate personas under one platform while reducing costs associated with maintenance
IMPACT: A centralized persona repository leads to 5X increase in use of personas.
Drive 2X sales pipeline and 3X better marketing.
Integrate your personas into CRM and marketing automation:
Improve database coverage by mapping contacts to persona to identify gaps
Execute high-performing persona-based campaigns with marketing automation integration
Drive more sales by arming reps with contextual persona insights, messaging, and content within their CRM views
IMPACT: Persona-driven sales and marketing yields 2X more pipeline and 3X lift in campaign response.
Uncover Missing Insights About Your Buyers
Enhance personas with big data analytics & external insights:
Save time searching for new insights and customer intelligence manually
Leverage our extensive network of data partners and powerful analytics engine to add new insights about your buyers, their industries, and their organizations
Never be irrelevant using these third-party insights to continuously understand their changing needs, priorities, preferences, and more.
High-performing organizations are 7.4X as likely to have updated their personas in the last 6 months.
Ready to become customer-centric with Cintell?
"Cintell is intuitive, fast, and a powerful way for us to put new buyer insights in the hands of all of our employees."

Dan Briscoe
VP of Marketing, HCSS
"Cintell turns personas into active tools that can help companies drive sustainable business growth."

Ardath Albee
B2B Marketing Expert,
Author, Cintell Advisor
Let's Talk
Schedule a discovery session with our team:
"Using buyer personas can improve content effectiveness, sales productivity, and marketing campaign performance.
But for organizations to gain value from personas, they must be operationalized.
To achieve this, marketers must gain buy-in, share persona insights across other functions of the business, and keep persona insights up-to-date so they can be used as active strategy tools to drive customer-centricity."
John Donlon
Research Director
SiriusDecisions