Researching Your Personas
Where do I get the information I need to create a Persona?
If you haven't built buyer personas yet, the best way to get to this information is to conduct primary research through interviews and surveys. Speaking with real people (buyers, internal stakeholders, users and other people involved in making a purchase decision) is essential to building personas you can trust.
Does Cintell have tools to help with primary research?
We do! Before scheduling any interviews, you'll want to develop an interview guide. Consider the guide a tool designed to foster quality conversation rather than a rigid script. Cintell's Interview Guide Manager allows you to collaborate with your team on questions and manage responses.
How do I create an Interview Guide in Cintell?
To create a guide, select Primary Research in the top navigation and click Create a New Interview Guide in the left sidebar.

(If you don't see the button to create a new guide, you may need to request this feature be enabled on your account. Contact us to turn it on today.)
Give your Interview Guide a Name (for example, Advocate Interviews or Buying Process Interviews) and add a brief description.
Add a few tags to make it easier to search for this guide down the road and assign any relevant personas.
Type your question in the space next to the first number. To add more questions, click the +Question button
(Need a little inspiration for what questions to ask? There is a bank of pre-written suggestions that you can click to add to your interview guide.)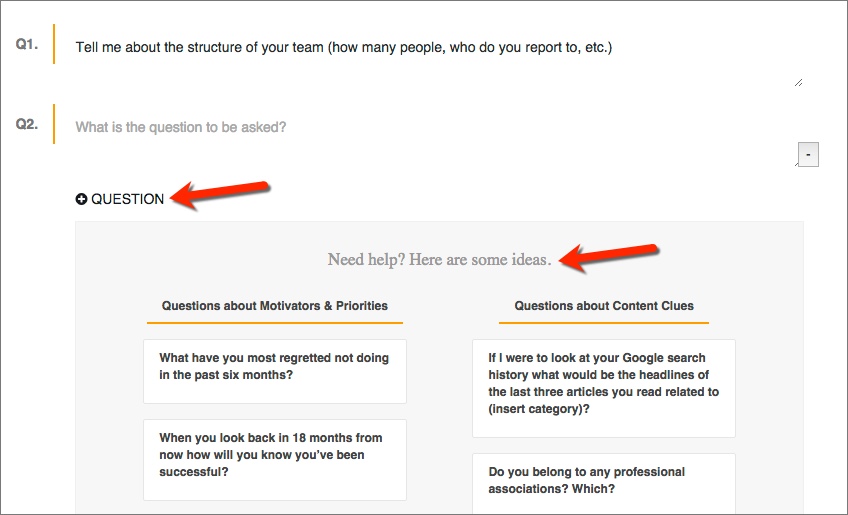 To save your progress and come back later, click Save Progress at the top right of the guide. When you are done editing your guide and are ready to begin using it, click Publish. This will lock in your questions and allow you to start capturing responses.
I have finalized my questions, how do I enter and manage interview responses in Cintell?
Navigate to your Interview Guide in Cintell and click Capture Responses. You can see on the Interview Guide Manager dashboard how many questions this guide has and how many responses you've already collected.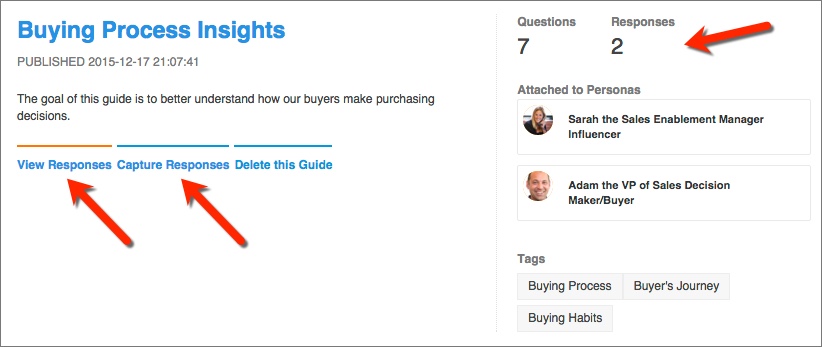 On the responses screen, enter the Name, Company and Title of the person you are interviewing. This is helpful for reviewing trending data by title or in case you have follow-up questions down the road.
Enter the responses below each question.
To save your progress and come back later, click Save Progress.
When you are done entering questions, click Finish Capturing on the top right of the guide.

To view responses, navigate back to the Interview Guide Manager dashboard and click View Responses. Choose if you would like to see responses by question or by respondent.
When viewing by Question, you can see the number of responses and easily toggle between them using the navigation arrows below the answer. You can also edit and delete individual responses.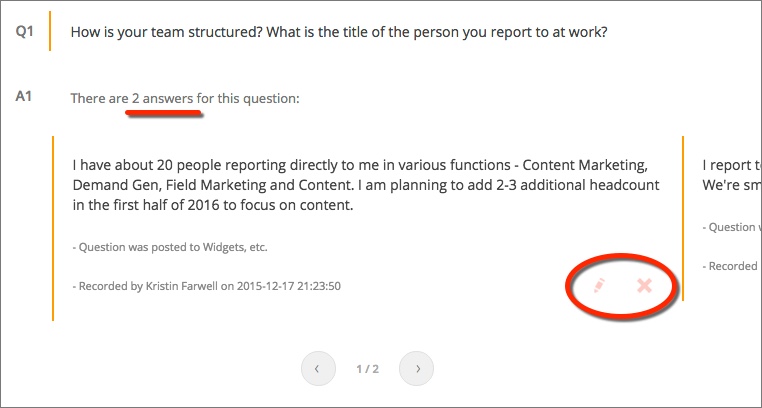 When viewing by Respondent, you can filter and view answers by respondent.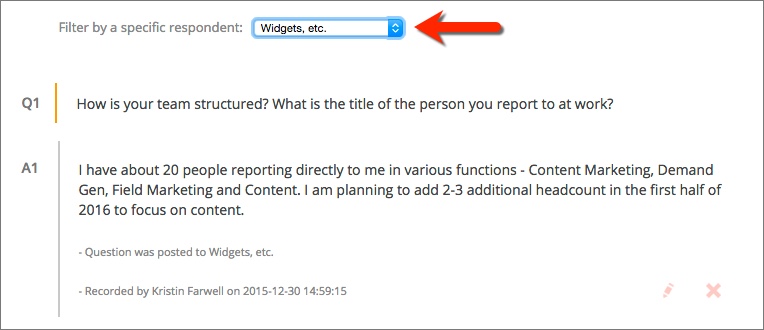 Can I edit an existing interview guide?
Yes. When a guide is in-progress, click the Edit this Guide button on the Interview Guide Manager dashboard. To remove a guide entirely, click Delete this Guide.
Once a guide has been published and responses are being captured, the guide is locked for editing. The intention is to prevent questions being modified or removed and rendering the collected responses invalid.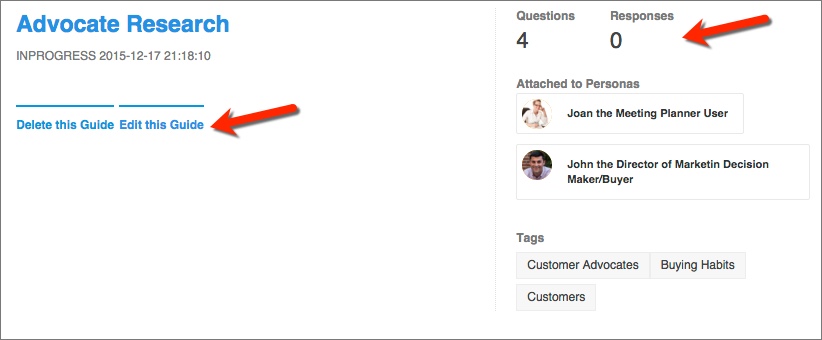 What questions should I ask in my interview?
A series of sample questions broken down by category is provided in the Interview Guide Manager to help you get started building your interview guide.
A few additional resources you might find helpful during this process are:
Need assistance with this process? Email us at support@cintell.net and we'll connect you with our Persona Expert-In-Residence.
I already have buyer personas, do I still need to conduct primary research?
Customer Intelligence is an ongoing process rather than a one time deal. We recommend that you validate your Personas with some primary research before converting them into Cintell Personas and maintain their relevance on an ongoing basis through interviews and surveys.
(Stay tuned! Cintell is adding a survey manager in the coming months!)