Live Webinar: How to Harness the Power of Personas for Radically Relevant B2B Marketing
Relevance is the key factor for successful demand generation. Without it, your B2B marketing efforts will languish, unappreciated by your buyers and customers. Personas—used intelligently—will align the story you share with key market segments so that it's so relevant, it can't help but earn their attention.
Join B2B marketing expert Ardath Albee, author of Digital Relevance: Developing Marketing Content and Strategies that Drive Results, and Cintell Co-Founder and CMO Katie Martell to learn how personas can help you discover the insights to ensure your marketing programs truly engage your buyers and generate high demand for your products and solutions.
Key Takeaways
The role personas play in today's B2B sales and marketing world
The 9 essential components of a useful buyer persona
3 tips for gaining buy-in internally
How leading companies use personas throughout their business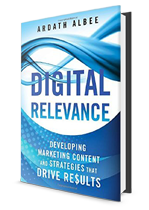 We'll also be giving out copies of Ardath's new book, Digital Relevance to a few lucky live attendees! You can't win if you don't register.